About Us
Plastic made Ropes are used immensely in this modern age. They have made a strong spot for themselves in the furniture, fishing, shipping, agricultural, construction and many other sectors of India. There demand is constantly growing and we, M/s. Dynamic Rope Industries, are here to meet such demands since 2015. From the first day of our incorporation, we are dealing in a huge variety of premium grade Ropes. The variety we present in the domestic market comprises flawless HDPE Ropes, Mono Ropes, Nylon Ropes, PE Ropes, PP Ropes, Polypropylene Ropes, Danline Ropes, etc.
The Ropes that we offer are confirmed to have no physical defects and are appreciated widely for their massive strength in the marketplace. They allow users to make a strong grip while using them, this has become a major attribute to their success in the marketplace.
We are acclaimed by experts of plastic and rope industries for being a responsible manufacturer and supplier. They appreciate our company for adhering the industrial standards and following fair trade policies.
Our Future Goals
The goal of our widely respected Gujarat based company is to grow in the market by offering best quality Ropes to our massive clientele. For this, we work hard and make use of quality plastic rope variety such as HDPE, PP, Monofilament, Danline, etc. In the future, we plan to keep using such a quality variety of raw materials in the making of our range in order to keep our clientele satisfied with our enterprise.
Why To Choose Our Ropes?
In the Indian Rope market, our offerings are loved the most. Their high quality, outstanding strength, durable life and affordable prices have been massively instrumental to their popularity. Some other features of our range that has earned them huge acclamation in the market are mentioned below:
They Are Quality Accredited: All of the plastic based Ropes that we bring forth are quality tested in our testing facilities in order to confirm their perfect quality, design accuracy and durability.
They Are Slippage Resistant: Slip-resistant Ropes are the most reliable partner to users, our company constantly checks on our range's slip resistance prior to its dispatch. Only after confirming our Ropes reliability, we deliver them to clients.
They Are Breakage Resistant: In the marketplace, our Ropes have earned the top spot because of their breakage resistance. Our Ropes are strong and they do not break or tear easily.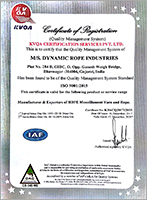 Read More